Reading Time:
3
minutes
Conquering Comfort Zone, First Step
I have been repeatedly asked by every serious person, startup owners and aspiring entrepreneurs about the conquering comfort zone. This is one of my favorite subjects as well and I love to share one insight with you in this post.
What is the comfort zone?
In simple words, it is a place where you feel like a king (no worries, no struggle) that's it. I don't have a fancy philosophical definition for it.
Then what's wrong in it to feel like a king?
Nothing is wrong in it if you are a real king, but my friend it is just a FEELING. This is the pressure zone for strugglers!!! I am sure you understand the difference between feeling and reality. As this is a mare feeling, it is bothering you and you must be keen to get out of it to become successful in real life.
Why is it hard to get out of comfort zone?
Bingo!!! this is what I was expecting from you. Look, my friend, there are two scenarios:
Scenario #1:
Success Gurus and business coaches hyped it something like a scary giant!!! First and the foremost reason today people like you and me are scared of this "Comfort Zone" thing.
Scenario #2:
the majority of us doesn't know the "simple strategies" of conquering 'comfort zone' that is why it is hard. I am going to share one simple and easiest strategy to conquer your comfort zone later I will also share when you win the first one. (Promise)
Look, I am also one of you. I was struggling a lot with this giant. Did every possible thing but all in vain because I was trying hyped or advance things taught or shared by experienced people everywhere on the internet or YouTube. Nothing worked. So you can say; I learned it hard way!!! Yes, it is true, lost many opportunities due to sleep.

If you are an entrepreneur, startup, first-generation business owner, or student, you must be aware of what is holding you back?
When I started my first factory in 2012, I struggled a lot with my sleeping habits (hey buddy, this is the most tempting area of the comfort zone and in this post, we are going to handle it first).
As a student, I was used to of late night studies from 6th standard to professional studies and it became a stronghold for me which was not at all good for my #entrepreneurial journey.
If you are an aspiring entrepreneur or planning to be one, you must aware of 'how difficult it is to conquer your extra sleep?'
I also started struggling with it after a few months I conquered it by knowing the easiest strategy. Immediately after that my #results became more appealing as well as rewarding and tasted #success at every step!!!
Today through this short post, I want to encourage you to #conquer your sleeping habits and wake up early…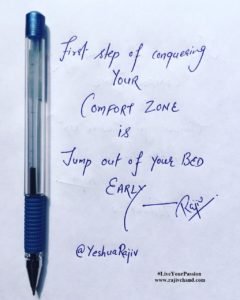 How?
Include it in your "To-do" list of the next day… When you include it on the top of the list, psychologically you will win the first phase of the battle.
I conquered it in this way and believe me it is very easy but for first 4-5days it will be like tracking Himalayas.
We can hustle outside with ease but outside is fully controlled and impacted by our inside (mind and home!!!).
What do you think? Is it not easy? Hey, common try it for 7days, drink plenty of water(must) in a day. You will surely win your first battle. Our mothers, sisters, and wives are really perfect in it.
When you conquer your sleep, it will boost you up and encourage you to push yourself extra. I will share many simple strategies related to the comfort zone in the upcoming posts.
Ask, comment and share your winning strategies for comfort zone below and share it with that #struggling guy you know!!!
Thank you for your valuable time, I appreciate it.
#staystrong keep moving forward…
#flyhigh & #Liveyourpassion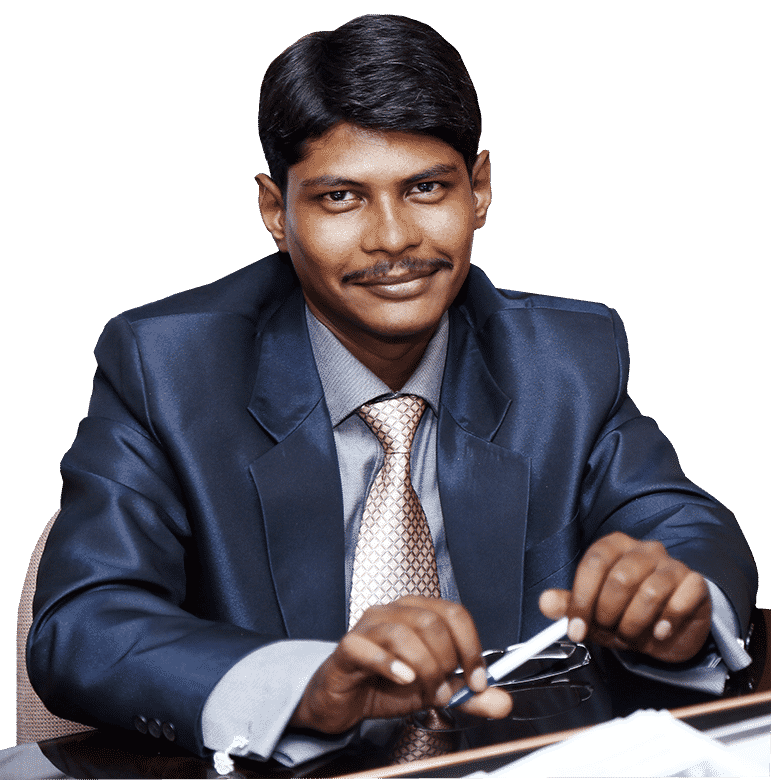 Visionary | Catalyst | Serial Entrepreneur | Strategist | Educator | Author | Speaker | Faculty_MSME_Govt. of India
***
"I am on the  MISSION to Mobilize, Prepare, Train, Equip, Empower and Develop our Indian ENTREPRENEURS."